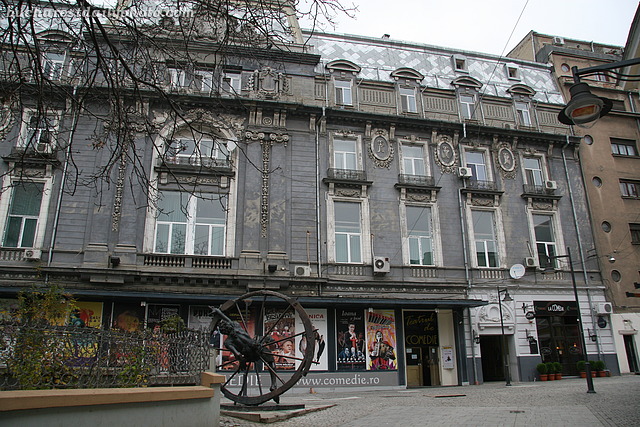 Versiune în română
I've been told by one of my friends that I focus too much on the city center, especially the Old Town. I guess she's right, I take many pictures in the Old Town because I think that it's one of the most picturesque parts of Bucharest, and that it offers numerous opportunities for photography. Eventually I will move on to the neighbourhoods but at the time being I feel there's still a lot to explore in this old part of the city. I pass through the Old Town often, and most of the time I just go on about my business, until one day something strikes me and I stop to take a picture. I sometimes wonder how others are seeing these pictures, if they are moved by the same details that made me decide to stop and take a closer look. Today's photograph shows a corner of Old Town that caught my attention last week. I don't know exactly what it was that suddenly moved me. Maybe it was the colored posters of the Comedy Theatre, a dash of color in a otherwise grey day. Maybe it was the ornate building, dating – if I'm not mistaken – from the beginning of the 19th century (if someone has a more definitive date please let me know as I wasn't able to find one). Maybe it was the new art installation. In any case, here it is for you to enjoy.
The next two weeks I'll be blogging from abroad. I do plan on having uninterrupted
service 🙂 so please continue to stop by.
I wrote this post in the wee hours of the morning so I hope it makes sense.